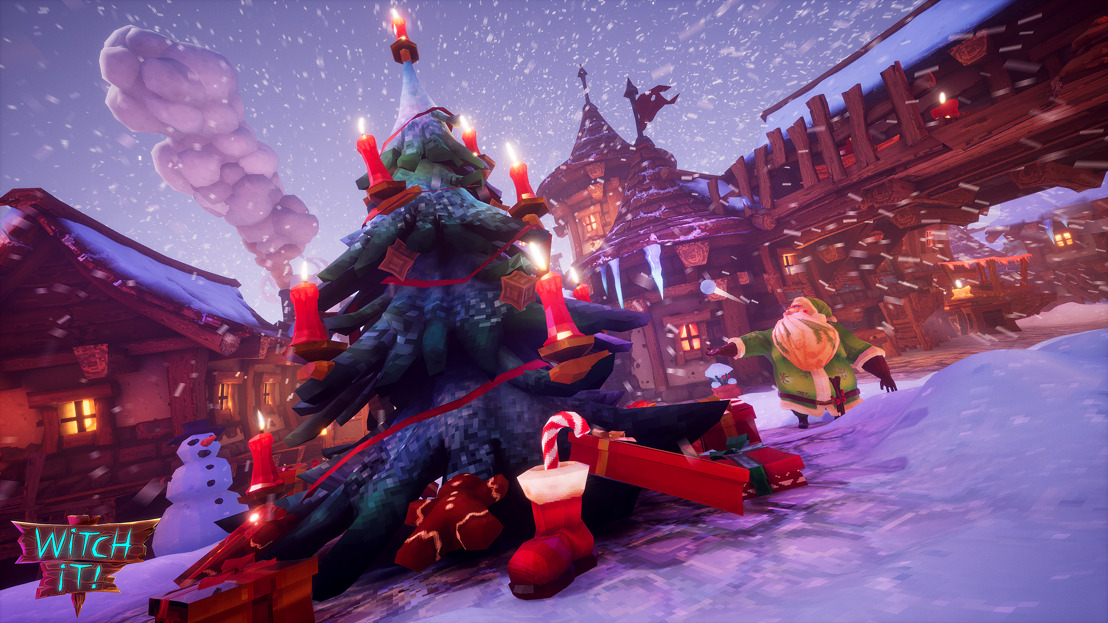 Christmas comes to Witch It
The new update brings seasonal decoration and costumes
Thursday, December 13, 2018 — For the start of the "jolly season" of the year, even witches and hunters get into the Christmas spirit. As of now the multiplayer "hide & seek" game by Daedalic Entertainment and Barrel Roll Games brings Christmas decoration in the map of the witch hunt. Until January 7th, 6pm (CET) gamers can unlock new costumes and items for their witches and hunters.
In Witch It two teams are fighting against each other: The hunters have to look for the witches in a magical and humorous environment. The witches spread out on the map and can change into any available prop. After a short hide phase, the hunters swarm out and use every feature and skill to seek the witches. Four game mods are available:
"Hide & Seek" - Hunters have to find all witches in order to win a round. If you're caught, you're out

"Mobification" - Caught witches become hunters

"Hunt a Hag" - Skills are deactivated for both teams and hunters can only use melee attacks

"Fill a Pot": - Witches need to fill cauldrons and Hunters must prevent them from doing so.
More features:
Hunters and witches can play on twelve different maps, every map has its own theme

A growing set of new skills to either hide and/or seek

Due to the dynamic controls, moving around and finding hiding spots is simple and intuitive

Various customization possibilities for witches and hunters with different ranks and rarities

Play on public or private servers

Witch It is in "early access" on Steam and available for $14,99. A version for PlayStation®4 as well as Xbox One are already planned.

About Barrel Roll Games

Barrel Roll Games is an indie game studio from Hamburg, founded in 2017, which develops Witch It at the moment. Witch It won the "Most Wanted" Award at the German Developer Awards in 2017. Also, Witch It received the awards for "Best German Game", "Best Youth Game" and "Best International Multiplayer" at the German Computer Game Awards 2018.

"PlayStation" is a registered trademark of Sony Interactive Entertainment Inc.
Sandra Hübner Head of Communications, Daedalic Entertainment GmbH