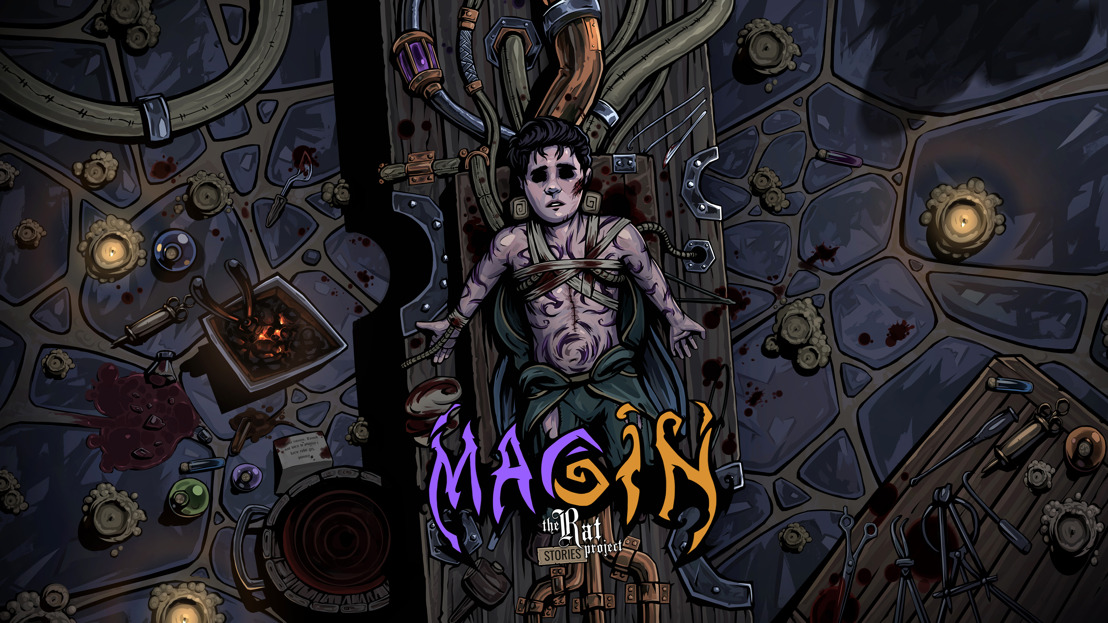 Dare You Play Magin: The Rat Project Stories During Steam Next Fest?
The upcoming dark-fantasy narrative deck-builder adventure, gets a new developer gameplay showcase to tease Steam Next Fest demo!
Watch the Developer Gameplay Showcase:
Polish developers The Rat Project and publisher us are bringing a new demo of their upcoming dark-fantasy deck-building adventure Magin: The Rat Project Stories to Steam Next Fest, from June 19th to June 26th, 2023.
The Rat Project invites fans of dark-fantasy and deck-building games to play the upcoming demo when it becomes available at Steam Next Fest. Interested players can see the game in action before the demo arrives with a new gameplay showcase where developers from The Rat Project explain the game's lore, give interesting insights into the development process and talk about inspirations, as they play through early sections of the game and reveal the world of the Magin!
Magin: The Rat Project Stories takes place in a dark-fantasy world, where magic – or essence, as it is called in this world – is directly tied to the desires and fears of its inhabitants. You play as Elester, a veteran Magin soldier in an underworld organization, as well as young Tolen, who starts to realize that he is an essence user too, and will provide a fresh perspective on the conflict. Step into a magical world standing on the edge of industrial revolution and utter chaos. Overcome obstacles, play your cards wisely, and find your destiny in this immersive, story-driven adventure.
Magin: The Rat Project Stories will launch soon in 2023. Wishlist it now on Steam, or follow along the social medias Twitter, Youtube, Instagram and Facebook.
Download the presskit here.
About Magin: The Rat Project Stories
Magin is the story of two characters - Elester and Tolen - Magins, mediums of the essence. Though they have few things in common, they are bound by a fate neither suspects. The engrossing story is filled with difficult decisions to make and multiple endings to determine. The world of Magin is both rich and mysterious, full of multidimensional characters, atmospheric locations, and horrible creatures. It is at a point in history where medieval culture is confronted with the invention of industrial, magic-powered machines, and the forces that seek to control them.
Features
Adventure game - interact with numerous characters as well as the environment and investigate items to get a better grasp of the world and deeper knowledge of the story.

Card system - build your deck as the story progresses and face humans and aggressive beasts. Use RPG-influenced elements such as storyline choices to shape your decks of cards.

Emotions mechanics - maintain the emotions of your characters, choose the path they'll follow, and deal with the impact of your choices influencing all gameplay aspects.

Enjoy a fully dubbed gameplay with uniquely illustrated comic book sequences.

Non-linear storyline - immerse yourself into a cold and harsh fantasy world. Follow the main characters through their journey of lost and redeemed hope.
---
Magin: The Rat Project Stories on Steam:
Magin: The Rat Project Stories
Magin is a combination of a narrative-driven adventure game with a deck-building card combat system. The nonlinear plot, comic book aesthetics, full voice over and game mechanics are all tightly attached to the represented world in a unique fantasy setting.
steam
---
About The Rat Project
The Rat Project - is a group of twelve indie developers based in Poland dedicated to making quality games with heart. Founded in 2020 by a few gaming hotheads that met on a Discord server, they are now working on Magin: The Rat Project Stories which started as a passion project. After initial funding through a successful Kickstarter campaign and now teaming up with Daedalic as their publisher, The Rat Project can't wait to bring their first game to gamers around the world later this year.