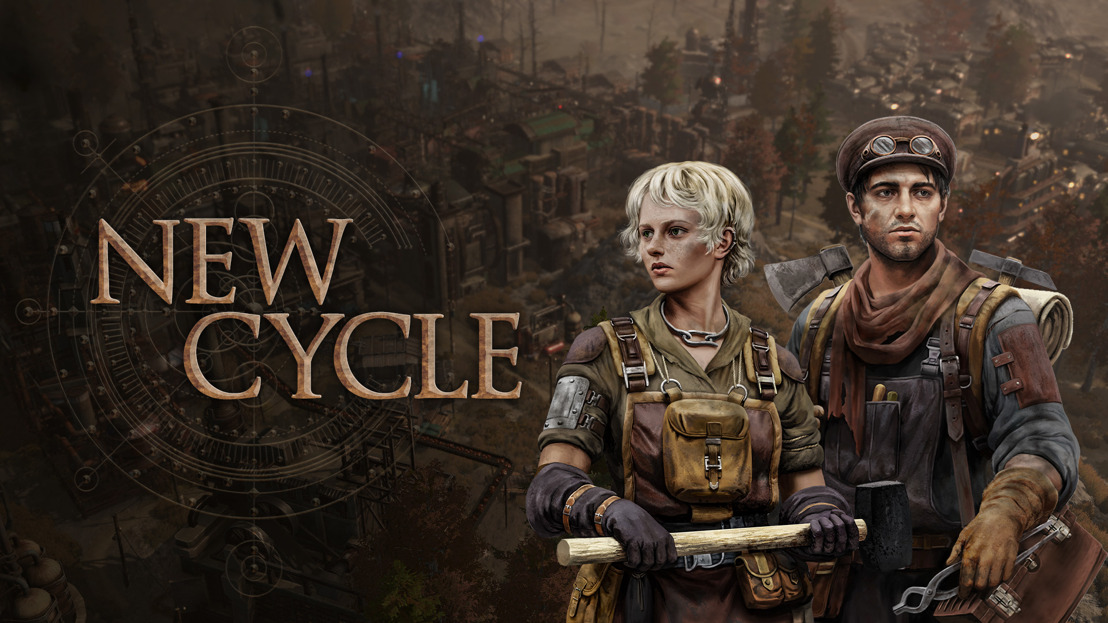 NEW CYCLE: Survival City-Builder Emerges from the Chaos with Fresh Gameplay Trailer & Publishing Partner
Core Engage developers partner with us for their first project— the post-apocalyptic strategy title, New Cycle
Trailer:
Today developers at Core Engage revealed a gorgeous new gameplay trailer for their upcoming post-apocalyptic base-builder: New Cycle. Set in the aftermath of a devastating solar flare, players oversee a colony of survivors, building a small fort into a thriving metropolis while managing existential threats to their power and survival. While a demo is publicly available at the moment, the team is preparing to release major updates to the game in a Steam Next Fest demo, launching on June 19th, 2023. The game's Early Access release to Steam is slated for 2023.
New Cycle is the first project from Core Engage, a team of innovative developers who seek to bring new life to the colony survival genre by iterating on its cornerstones, both narratively and mechanically. The game takes place in a near post-apocalyptic future. After the Earth got hit by a severe solar flare, the planet's magnetic field collapsed, temperatures began to rise, the equator turned into a desert and humanity crumbled. The only habitable zone left is the Northern Hemisphere where the player creates a settlement that will save humanity and nature. To keep the settlement alive, players must gather vital resources, make tough decisions and manage relationships with neighboring settlements, as they work to uncover lost technologies and overcome obstacles of the post-apocalypse. Regardless of player designs and decisions, nature marches on; the eroded atmosphere of the New World presents fickle cycles and destructive events that add dynamic challenges to the game. Players will need to contend with natural and political threats in order for their settlement to survive.
Alongside the new trailer, Core Engage announced they will be partnering with publisher Daedalic Entertainment to bring the game to global audiences. New Cycle joins an impressive roster of indie titles released by the German publisher, including Inkulinati, Deponia, Shadow Tactics: Blades of the Shogun, Ken Follett's The Pillars of the Earth, The Long Journey Home, Barotrauma, and more.
Core Engage plans to work closely with the community through Early Access. Players interested in the development progress can sign up to the game's newsletter on the New Cycle website, wishlist the game on Steam, and follow Daedalic Entertainment on Twitter.
Download the press kit here.
---
New Cycle on Steam:
New Cycle
Build a new civilization out of the chaos of an apocalyptic solar flare as you grow your House from a lone shelter to an industrial metropolis. Take on the burden of preserving life itself and help your people realize their aim: "A future beyond survival." Lead the world of New Cycle.
steam
---
About Core Engage
Core Engage is a videogame development studio based in Istanbul. Founded in 2019 with the partnership of Verusa Holding under the leadership of two developer brothers, the company aims to produce management-based, systems-driven games with rich mechanics, comprehensive worlds and high levels of scientific reality, especially in the strategy and simulation genres. Core Engage, which has been working non-stop and expanding its development infrastructure since the day it started its development life, is now preparing to launch its first product, a post-apocalyptic colony survival city builder titled New Cycle. For more information, please visit: