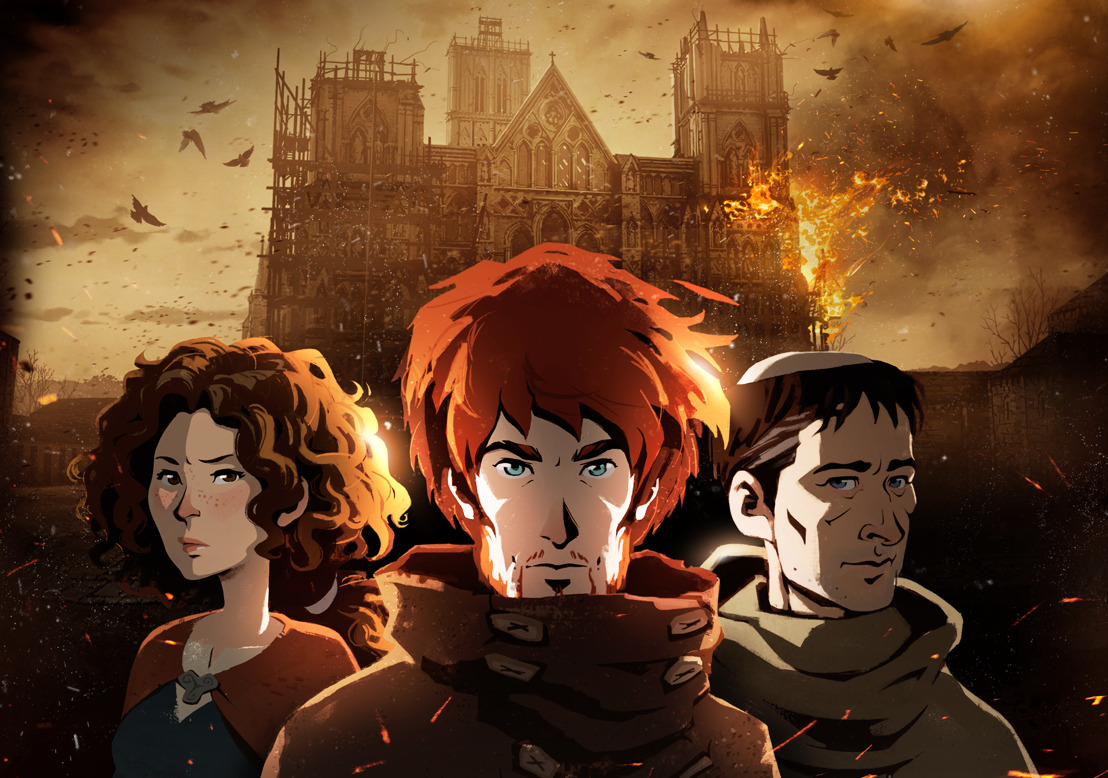 New game based on "The Pillars of the Earth" begins this summer
Part 1 of Daedalic's interactive novel to be released on August 15th
Tuesday, April 25, 2017
Part 1 of Daedalic's interactive novel to be released on August 15th
The game is coming to PC, Mac, Linux, PlayStation 4 and Xbox One
The steam page is live now
Today, German developer and publisher Daedalic Entertainment reveals that their upcoming video game "The Pillars of the Earth" is set for an August 2017 release. Available on PC, Mac, Linux, PlayStation 4, and Xbox One, the game is an adaptation of the best-selling historical novel by Ken Follett - "The Pillars of the Earth". It is a one-of-a-kind, 2D point and click adventure, a genre that Daedalic is renowned for. The development team took the 1200-pages book as the blueprint, and turned it into an interactive novel. Players follow a nonlinear storyline with three playable main characters. The game is going to be released as three books with seven chapters each. Players purchase a season pass when buying book 1 "From the Ashes" – Daedalic will share more information about book 2 and 3 at this year's gamescom.    
This has been the biggest and most ambitious project Daedalic has embarked on to date. Matt Kempke and Kevin Mentz, both author and game designer, stated, "We took the source material completely apart and reassembled it as a unique experience for the player. We kept the core story but of course a game gives us more freedom to add decision-making and interaction." The game provides a compelling and involving version of "The Pillars of the Earth". Players develop a deep emotional connection with the characters while controlling their way through the dense and thrilling story. Moreover, the game lets players change events from the novel as well as influence the fates of its characters.
Set in 12th century England, a time of great poverty and war, "The Pillars of the Earth" takes place in the fictional town of Kingsbridge as it begins the construction of a Cathedral to assure wealth and security for its people. Philip, a monk, becomes the prior of Kingsbridge abbey. Jack, an ambitious architect, is commissioned to build the village cathedral. Aliena and her younger brother Richard have to survive on their own; after their father, the Earl of Shiring, is incarcerated and murdered. Meanwhile, prior Philip's rivals, bishop Waleran and William Hamleigh, a vengeful noble rejected by Aliena, see the town and its rise to importance as a thorn in their flesh. They want to see Kingsbridge burn.
The original novel by Ken Follett has sold more than 26 million copies until today.
Features
A thousand-page novel, adapted as a videogame across 21 chapters
Change events from the novel and influence the fates of its characters
Faithful rendition of the 12th century with over 200 hand-painted backgrounds
Three main playable protagonists, with two extra playable characters
Orchestral soundtrack by the FILMharmonic Orchestra, Prague
Tim Krause-Murroni Director PR, Daedalic Entertainment GmbH
Sandra Friedrichs PR Manager, Daedalic Entertainment GmbH