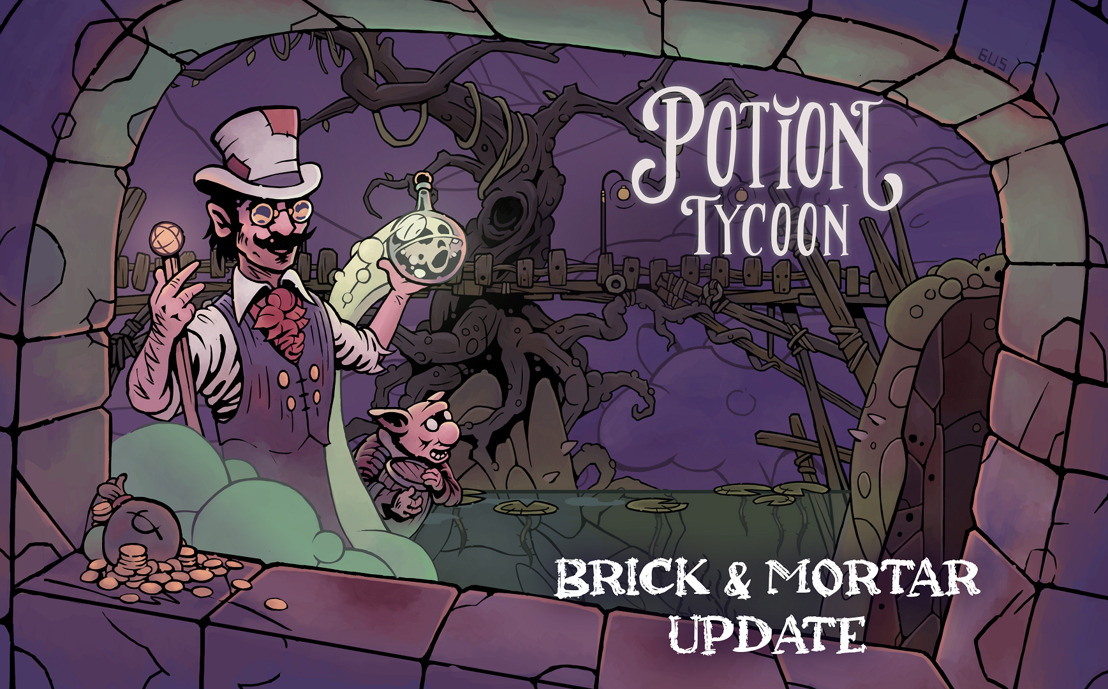 Stop and Shop for a Spell! Potion Tycoon is Open for Business With the New Brick & Mortar Update
Potion magnates, it's time to give your shop a makeover with the latest Potion Tycoon update!
HAMBURG, Germany, September 13, 2023 — Daedalic Entertainment and Snowhound Games are celebrating the 6-month anniversary of Potion Tycoon in Steam Early Access with Brick & Mortar, a massive content update that includes the community's most desired updates including construction and renovations! These latest improvements allow existing players along with newcomers to experience it as a true potion tycoon!
Watch the Brick & Mortar Update-Trailer!
Potion Tycoon is a magical take on the management simulation genre. Open your own potion shop and strive to become the most successful brewer of magical concoctions in the realm. Manage all aspects of the potion mixing business from experimenting with various recipes, to competing for resources or raising your own magical plants or fungi, as well as optimizing your production lines. The team at Snowhound Games has been hard at work, listening to players and improving the game with this 3rd major update. Get ready for these latest additions:
Floodlands - A new game starting location. The "Floodlands" features diverse scenery and a larger construction area to build the potion house within.
Construction Mode - Entire rooms can now be moved around in Construction mode, with all the equipment and room content contained inside, and why not update the room's color while you're moving them around?
Larger Rooms - Rooms can be stretched much wider to allow for increased equipment, storage, or whatever you need. Bigger = better!
New Monsters - Never mind the competition, worry about the skeletons arising in the basement, headless ghosts in the halls, or trolls on the bridges!
Much, Much More - There are a host of new fixes, updates, and balance changes requested by Potion Tycoon fans. Don't have a potion to banish that skeleton ready? Knock it out with a rock while you prepare one! You can read all of the content updates in Brick & Mortar HERE.
Potion Tycoon is now available for PCs in Steam Early Access. For more details about budding potion tycoons and a plethora of other vocations, please check Daedalic's Twitter.
Press materials are available for download here.
About Snowhound Games
Snowhound Games is a small but very versatile team comprised of six game enthusiasts and software, information technology, digital art, and electronic business professionals. They are different in almost everything: age, nationality, tastes, and habits, but there's one thing that brought us together – our sheer passion for video games!
The Snowhound team was established in June 2014 by seven members of a specialized Game Developers Training course held at JAMK University of Applied Sciences. At about the same time they started to develop their debut mobile game title Apestorm: Full Bananas which was released on the AppStore and GooglePlay in April 2016.